CEREC restorations
CEREC 3D allows the fabrication of dental crowns, onlays and veneers for many applications in one appointment. Ask if Cerec can benifit you.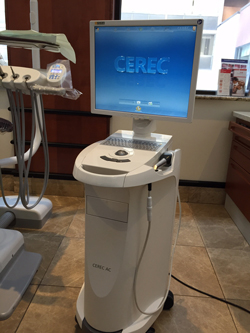 STA computerized anesthesia
STA computerized anesthetic delivery system. This device improves comfort of anesthetic delivery in many situations.
Intraoral Camera
Our intraoral camera allows you to see what the doctor is viewing. Intraoral photography is another alternative to traditional dental X-rays. With intraoral photography, problems such as cavities, fractures and discolorations in the teeth are captured through clear and sharp photographic images that are taken with a 35mm or digital camera.
Digital X-Rays
Digital X-rays, one of the latest and most advanced dental technologies, produce high-quality images of your teeth that can be viewed instantly by you and your dentist on a LCD monitor. Digital X-rays reduce radiation by up to 90% and provide exceptional diagnostic information to ensure that potential problems are caught in their earliest stages.